← Back
14 March 2017
A new set in Restaurant "MEAT"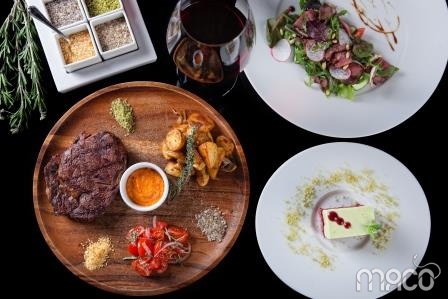 Restaurant "Meat" is proud to announe about the 3rd set - "Argentinian".The name stands for itself, the key role here is Argentinain beef.
The chef Aleksander Bishik suggests to start the meal fom mix salad with roastbeef of Argentinain beef, the Hereford breed is used here. The main dish of the set is the Argentinian Ribeye of corn feeding of the breed Black Angus.This Ribeye is the hit dish of "MEAT", the most popular steak in the restaurant.It is served together with baby potato, cherry tomatoes and vegetable soup. Dessert as a part of set is pistachio mousse on cherry sponge cake and marmelade. Sommellier advised that this set is pefect with Corbec Appassimento Masi 2010 - a dry red wine from Argentina.
The set is 2100 rubles per person.